The Problem

Students aspiring to enter the dynamic world of sports face numerous challenges in accessing valuable industry insights and resources needed to kickstart their careers. The complex sports landscape, rapidly evolving trends, and the intricacies of athlete management can make it challenging for these students to gain the knowledge and connections required to succeed.

The Solution

Athlete Connect offers aspiring sports professionals a gateway to the industry, providing comprehensive data, industry insights, and connections. Through our platform, students can immerse themselves in the sports world, gaining an understanding of contracts, player management, and industry dynamics. Athlete Connect empowers these students with the knowledge and connections necessary to embark on successful careers in the sports field, offering a valuable resource for those passionate about making their mark in the sports industry.
Six reasons why a student would need access to the Athlete Connect database:
Academic Excellence

Our sports database provides students with an array of data and insights that can be used to excel in class assignments and tests.

Supplemental Education

Access a wealth of supplementary materials and tools to stay ahead with your sports management education and training.

Class Projects

Utilize our comprehensive contract, athlete, and team salary data to support your class projects, making engaging presentations and papers.

Financial Analysis

For finance-related coursework, our database offers valuable financial details, enabling you to excel in projects that involve sports.

Sports Journalism

Access up-to-date information on player transactions, team dynamics, and contract negotiations to craft compelling sports news stories.

Market Research

Our database provides market intelligence, which can be leveraged for marketing and business classes to analyze sports industry trends.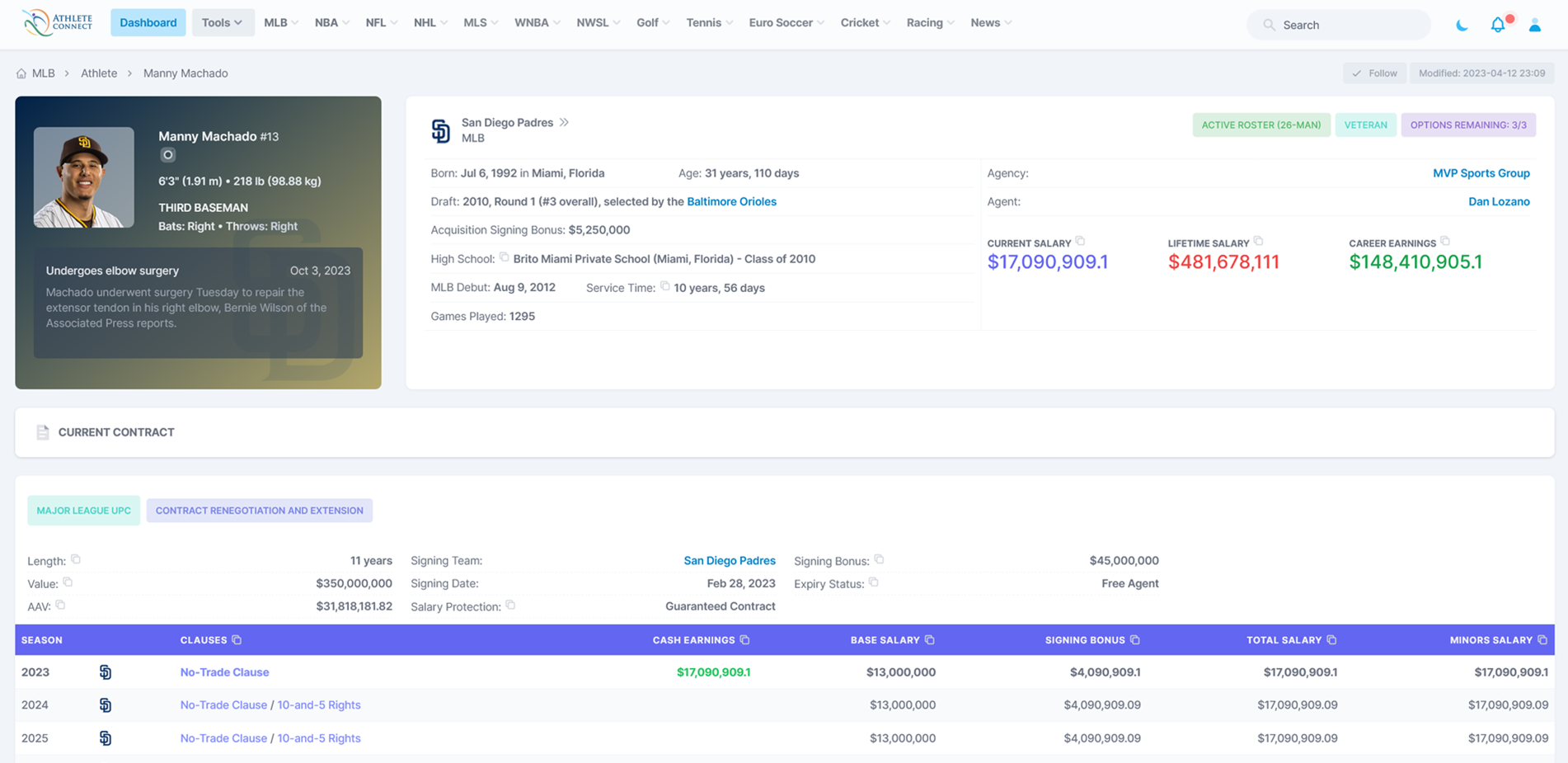 Enter the gateway to your sports career with Athlete Connect!
For students and aspiring sports professionals, our platform is your secret weapon. Dive into our sports database, where you'll access athlete profiles, salaries, contract information, and team financial data. Whether you're preparing for a school test, crafting class projects, or seeking blog-worthy news material, we've got you covered. Gain a competitive edge, connect with industry experts, and embark on your journey to sports success with Athlete Connect. Your future in sports begins here.
Sports Agent Database:

As a student looking to break into the sports industry, Athlete Connect provides you with the key contacts and resources you need to jumpstart your career.

Athlete Database:

Explore Athlete Connect's athlete database to expand your sports knowledge. Learn about your favorite athletes and their career progression.

Contract Database:

Learn about the intricacies of sports contracts with Athlete Connect's Contract Database and learning materials. Excel in your study and research by using our information.

Team Salary Database:

Get a head start on your sports management studies. Access detailed team data and salary insights to understand the business side of sports.