The Problem

Attorneys seeking to provide legal services and support to athletes, sports agents, and other stakeholders within the sports industry encounter difficulties in accessing and connecting with these target clients.

The Solution

Athlete Connect offers attorneys a streamlined pathway to connect with athletes, sports agencies, and industry professionals in need of legal services.
Six reasons why an attorney would need access to the Athlete Connect database:
Lucrative Sports Industry Contacts

Combine your legal expertise with Athlete Connect's powerful tools to provide unparalleled representation for athletes.

Estate Planning

Drive new business by offering estate planning services to professional athletes and their families.

Negotiation Analytics

Gain access to advanced analytics & negotiation trends to enhance your negotiation strategies and secure the best deals for your clients.

Collaborate With Sports Agents

Partner with sports agents to offer a wide array of legal services and solutions.

Expert Consultations

Enjoy the benefits of scheduling one-on-one consultations with seasoned sports industry experts at Athlete Connect.

Continuing Education

Access a library of sports business courses and resources; stay up to date with the latest sports industry regulations and compliance requirements.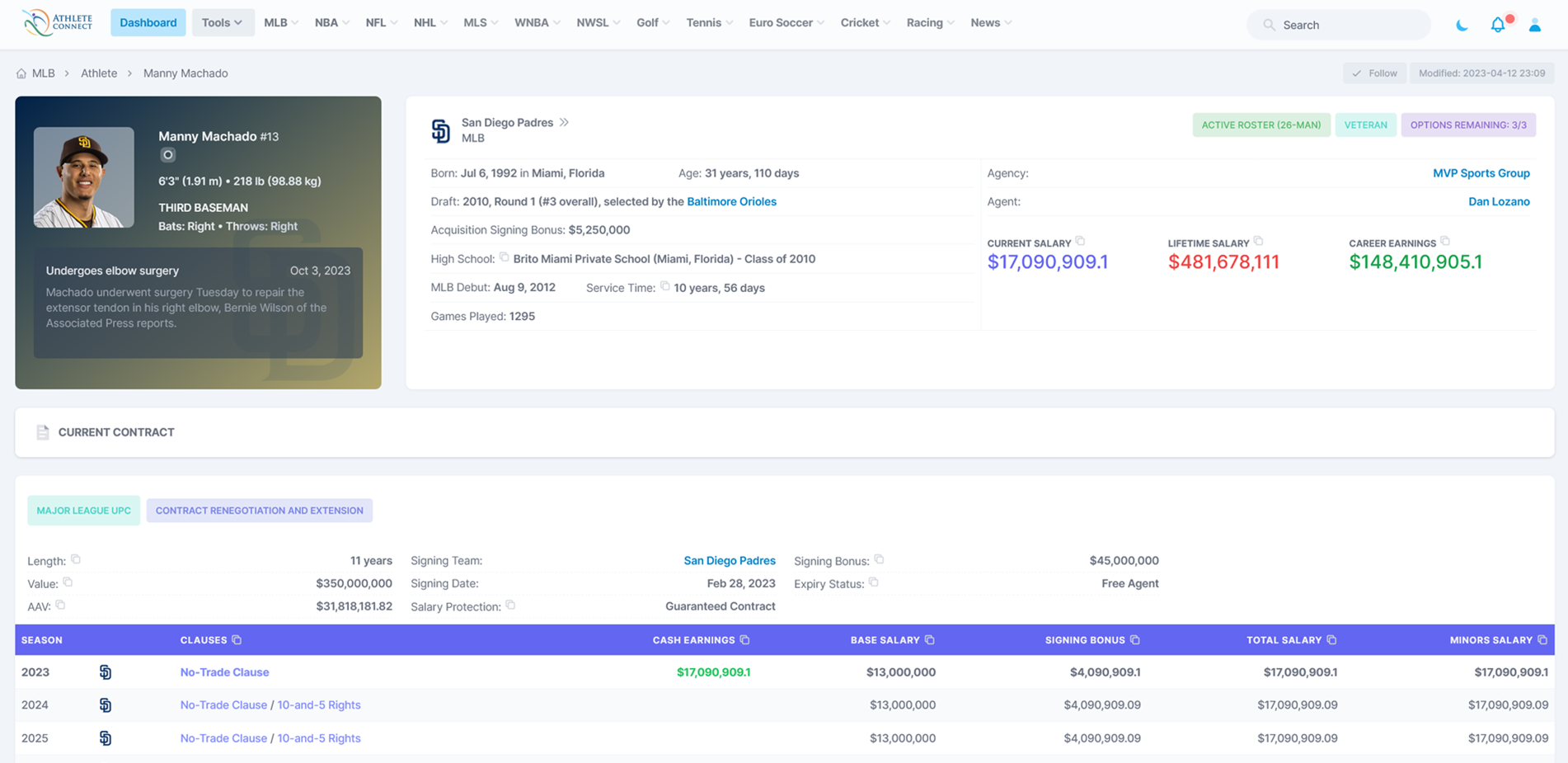 Attorneys find immense value in Athlete Connect, as it provides them with a specialized platform to navigate the intricate world of sports law and athlete representation.
Athlete Connect equips attorneys with an array of resources, including access to an extensive database of sports agencies and agent contacts, athlete profiles, team salaries, and athlete contract data. In summary, if you provide estate planning and other legal services, we can open up a whole new world of contacts and connections for high-net-worth clients for you.
Sports Agent Database:

Stay connected with the sports industry's key players. Access a comprehensive database of sports agencies and agent contacts to build your legal business.

Athlete Database:

Athlete Connect offers an extensive athlete database, providing you with critical information to expand your law practice. Know your clients better and serve them effectively.

Contract Database:

Effortlessly search and analyze sports contracts with Athlete Connect's contract database. Stay ahead of the game and provide your clients with expert legal guidance.

Team Salary Database:

Gain a bird's-eye perspective to strategically support local markets; connect, network, and collaborate with athletes in your local market.