The Problem

Accountants and tax professionals often encounter challenges in connecting with high-net worth professional athletes to expand their business.

The Solution

Athlete Connect offers a solution to this challenge by allowing accountants and tax professionals access to vital resources, such as sports agency and agent contacts, an extensive athlete database, team insights, and contract details. This empowers accountants to provide tailored tax planning, financial advice, and accurate financial reporting services, ensuring tax compliance and optimizing financial well-being for athletes.
Six reasons why an accountant or tax professional would need access to the Athlete Connect database:
Compliance Assurance

Ensure tax compliance for athletes and agencies, minimizing risks and maximizing financial benefits.

Maximize Deductions

Identify tax deductions and credits (federal & state level, if athlete moves) specific to athletes' careers, saving athletes time and money.

Retirement Planning

Assist athletes in creating retirement plans that align with their unique financial situations and long-term goals.

Wealth Preservation

Help athletes preserve and grow their wealth through tax-efficient strategies and smart financial decisions.

Budgeting Guidance

Provide athletes with budgeting and financial management guidance to secure their financial future.

Financial Reporting

Offer accurate financial reporting services to athletes and agencies, ensuring transparency and compliance.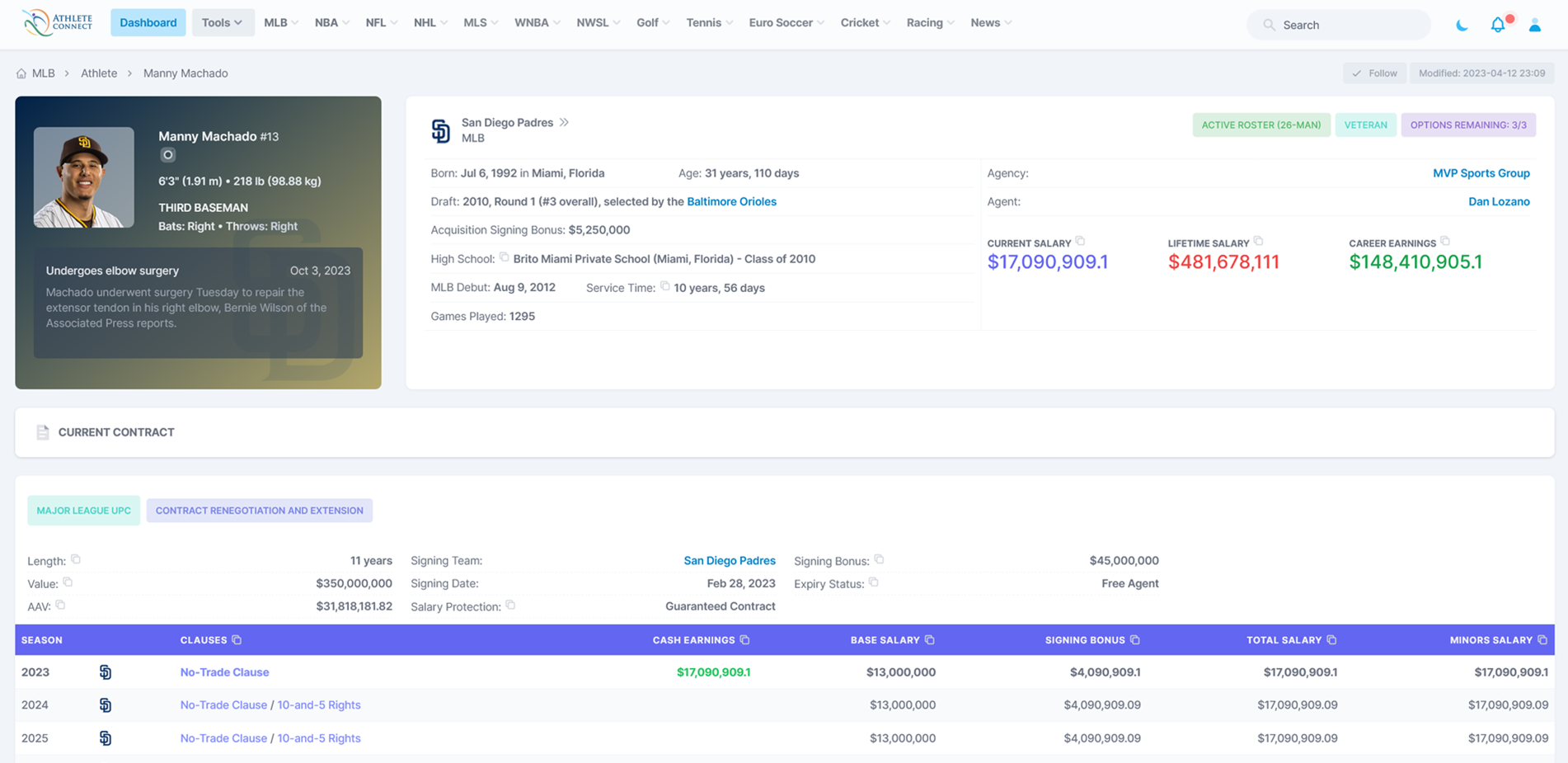 Empower your accounting practice with Athlete Connect!
Access invaluable resources like sports agency and agent contacts, an extensive athlete database, team insights, and contract details. Provide tailored tax planning and financial advice to athletes, optimizing their financial well-being and ensuring tax compliance. Athlete Connect equips you with the tools to expand your clientele, maximize deductions, and offer specialized tax services that cater to athletes' unique financial profiles. Join us today and elevate your practice to new heights in the world of sports finance and taxation.
Sports Agent Database:

Expand your client base by connecting with sports agencies and agents, offering specialized tax services.

Athlete Database:

Leverage athlete data to provide tax planning and financial advice tailored to their unique income streams and financial profiles.

Contract Database:

Optimize tax planning by staying informed about athlete contracts, endorsements, and their financial implications.

Team Database and Salary:

Offer tax-efficient strategies for athletes based on insights into team salaries and financial situations.